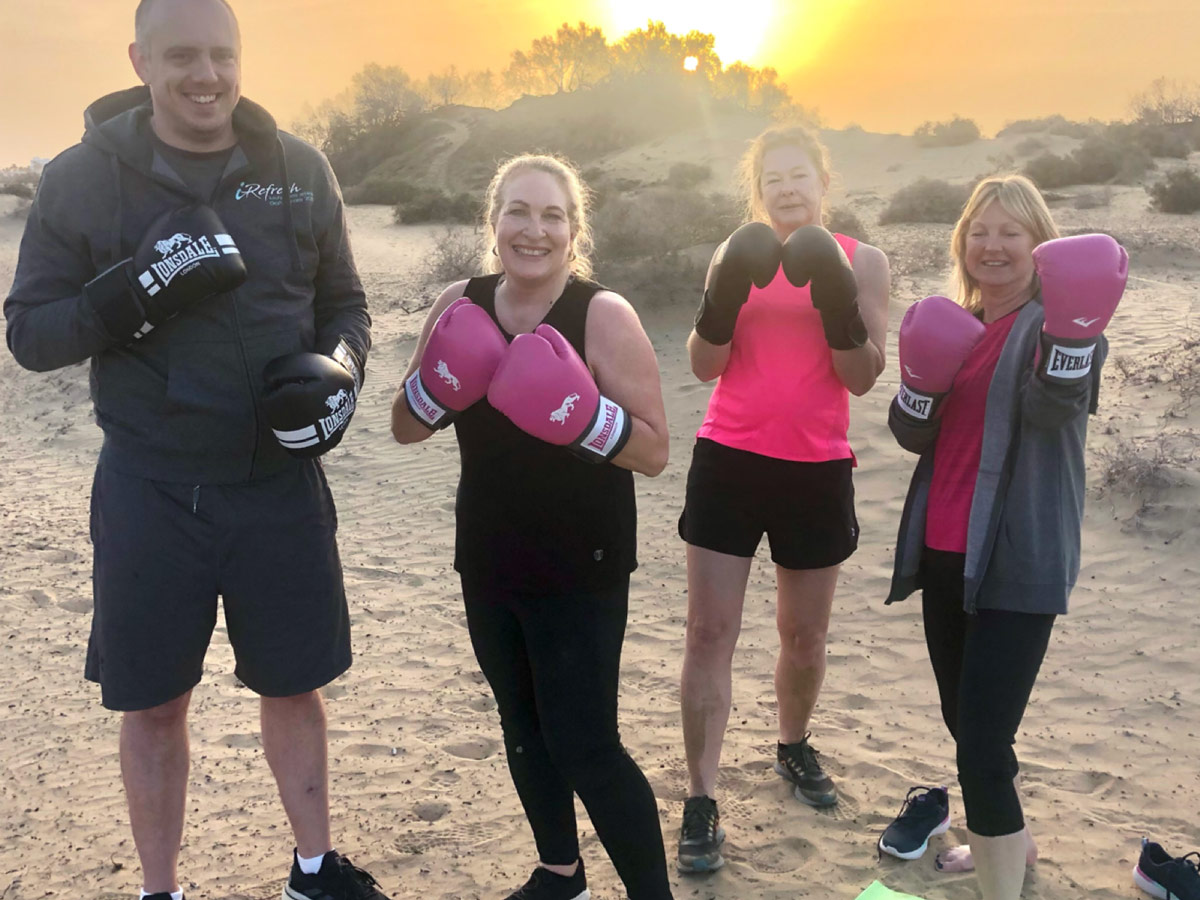 500,000 steps, 8 training sessions, 12 hours training, 5 spa treatments, delicious food and lots of pizza!
After over two years of not being able to go on any fitness retreats, Paul finally got away with a 4 clients on a 5 day/4 night iRefresh Fitness Retreat to Gran Canaria in early February.
The brief was simple, sunshine, make sure all the exercise was completed by lunch so they could relax in the afternoons and NO alcohol bans ha ha!
It was an early start with a 4am pick up courtesy of our brand partners GD Luxury Transport who whisked us off to Gatwick in style. After a light breakfast in the airport lounge we flew to the sunshine. 6 hours later and some comprehensive Covid security tests we were checking into our hotel. Our resort had several restaurants, 3 huge pools, spa, fitness studio and choice of bars and grounds to relax in in. We were also a 20 minute brisk walk away from the beach and the famous Unesco Site Maspalomas sand dunes.
All the sessions took part on the dunes as it was great location to train in plus it added an extra dynamic to the sessions.Whilst sometimes breezy, it was a warm breeze and pleasant to train in. Temperatures varied between 21 and 26 degrees on the last day with lovely bright blue skies.
Training sessions varied between pre breakfast HIIT training, boxing, core training, stretch & mobility, to a 4 hour trek through the dunes to Playa de Ingles, plus yoga, spinning and Personal Training.
Food was fresh, varied and catered for everyones needs, especially Steves obsession to pizza. One night we ate in a fabulous asian restaurant and on the last night we took a walk into town and ate at a locally recommended grill house-A great end to an amazing trip.
Whilst Gran Canaria was on Level 4 Covid restrictions, it didn't really affect our retreat other than limited access to the fitness studio and spa, but these were not used too much.
On the return, we had a delay on our flight and after the last drop offPaul finally got into bed at 2:15am. One client was inspired to re start her running and push her efforts during training a little more and two others wanted to focus on tweaking their nutrition to aid with training and overall health.
All in all the feedback from everyone was that they had a great time and next time it needs to be a bit longer!
So with that in mind, Paul is now in the process of organising a 7-day winter retreat for the end of the year. If you're interested in joining us, drop Paul a message!