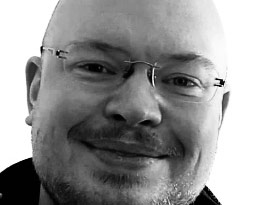 James Harding aka "Mr Big"
Age: 33
What made you come to PJG?
For many years I had worried about my weight.  A decade of bad habits and cognitive behaviours which had become engrained, such as stress-eating, secret-snacking and emotional dependency on food, alongside a lazy lifestyle.  These behaviours were impacting on my confidence, by motivation and health.
I could not find consistency with other trainers, and going to a gym or other activity classes always started off well, but inevitably to trail off.  My diet was inconsistent with 'comfort eating' and had become out of control.  A hectic job meant that I was eating meals 'on the go', often without much nourishment.  Family life at home meant that I rarely got any 'me' time, which led to further comfort eating and little high-impact activity.
PJG had an excellent reputation for offering 'specialised' training which I felt was needed beyond just standard 'weights and cardio'.  Also, professional interaction with Paul in a previous job role meant that I knew I could trust his skills, personality, and knowledge.  Knowing him from within the local community also gave me the motivational challenge to go for it.
How long have you been training with PJG?
8-9 months
What's been the biggest impact on your life since training with PJG?
Paul has helped me to identify the triggers of my eating behaviours, and has designed simple fixes and tweaks to allow myself to 'wean' myself away from the guilty food groups and emotional carbs.  We have developed a tailor-made eating plan without the need to completely take away the things I enjoy eating.  The alterations implemented have made it easy to make changes in my routines and stick to them.
This has led to a consistent loss of weight, without any major impact to my day-to-day life and family environment.  I have lost 10% of my bodyweight and the fitness sessions mean that my fitness has overall improved.
What's your favourite PJG work-out?
I enjoy the reaction lights, which allows me to concentrate and develop competition with myself to improve and focus harder.
I have also been physically strong, so inevitably I enjoy the weights, the ropes and stretch bands.
Paul sets little monthly challenges for those who want to take part in the group.  Sometimes there are some competitive workouts which I like to participate in.
Describe PJG in three words?
Professional, Specialist, Banterful
What's your favourite thing about PJG?
Paul's sessions are fun and enjoyable, while also hard working.
Paul's understanding of each of his client's needs means that he can offer a unique type of coaching aimed at supporting the individual in what they seek to achieve.  This, along with his outgoing personality means that the training is more than just a work-out, it is like a science lesson on top.
Why would you recommend coaching with PJG?
Paul offers considerable knowledge with his experience and understanding of what each individual needs to do to benefit and improve to meet their own goals.  His understanding of nutrition, muscle intensity and ways of adapting dietary behaviours to fit the client demonstrates his specialist coaching, and his positive, adaptable approach to work-outs justifies why he continues to keep his clients and gain new ones.